Medical Aesthetics for Clean Girl Coquette Old Money and Downtown
Medical aesthetics are already a very popular branch of classical medicine among patients who are looking for best and most effective ways to enhance their appearance not only for Christmas. Some call it 'medical makeup' because smooth skin on the face and attractive looks of your body must go in line with the cut of your dress, fashion and lifestyle. At Eskulap London clinic the clean girl aesthetic trend is most popular amongst other styles like downtown, y2k, coquette or old money.
While some women prefer to complement their facial appearance with clothing overlays others don't see the need to merge trendy fashion styles with healthy diet or glam look. They care more how they feel and look on the inside rather than spending money on wardrobe. It's a personal choice. But at our Greenford clinic we have something for everyone. Whether you're looking for plastic surgery, to reduce wrinkles, or just want to give your diet a slimming boost by using secretly guarded industry supplements, we got it all. The only thing we don't do at Eskulap Clinic is sell clothes. Maybe next year 🙂
Fortunately, doctors at Eskulap clinic travel the world to give you the best products. We try new supplements, fillers, toxins, brands like profhilo, filorga, neauvia on ourselves first so you don't have to be the guineapig. Just recently at the XXth World Aesthetic Medicine Congress we met with manufacturers and distributors of beauty products, makeup promoters and influencers alongside medical companies developing devices and injectable substances. The trend was noticeable throughout the conference. In the new year the consumer will be drawn towards natural toned skin, bolder makeups, curly hair textures, sustainable beauty and minimalism.
How does aesthetic medicine complement your aesthetic?
Clean girl medical aesthetic
Aesthetic medicine treatments performed by our specialist team of doctors can be a great way to complement your 'clean girl' aesthetic. Botulinum toxin is a popular aesthetic treatment which helps to soften the appearance of wrinkles and lines. It's a great way look refreshed without having to take time off from your daily routine. Natural and glowing skin trend reinforces the clean girl aesthetic. With a healthy and toned look men and women will continue the emphasis on enhancing and embracing their natural features. The spread of clean girl aesthetic is pushing facial peelings to lead the popularity charts. Peeling exfoliates external layers of the skin, revealing a brighter and more even complexion. Peels are used by our patients as a non-invasive beauty procedure that can reduce the appearance of wrinkles, age spots, and acne scars, as well as improve the overall texture skin tone. Natural beauty will increasingly become popular as consumers are aware of the impact chemicals on the environment. According to our findings patients are looking for beauty products that are eco-friendly and don't contain harsh chemicals. Mesotherapy also stands strong in this aesthetic.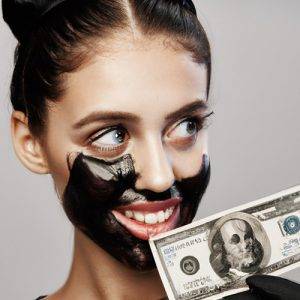 Coquette medical aesthetic
More daring makeup and bolder lip shades will be seen everywhere. This complements the coquette aesthetic. Brighter and more vivid colours will be popular in 2023. Fortunately at our London Clinic, if you're looking to give your skin a boost of radiance, a microneedling procedure may be what you require. Mesotherapy uses small needles to introduce tiny punctures in the skin, which helps to stimulate the production of collagen and elastin. In medical aesthetics this is used to reduce the appearance of wrinkles, improve skin tone and texture – giving your skin a more youthful glow. Vampire lift, sunekos, injectable collagen are procedures to consider to enhance the coquette look even further. In addition to needle procedures, slim figure and petite appearance might be what you look for. We got HIFU skin slimming treatments available that can be used to tighten the skin on the face and body embracing your youthful appearance. Especially useful during weight loss. Medilage supplements are another popular choice when it comes to diet, increased metabolism and body slimming. Read more about these unique propositions on our website.
Old money medical aesthetic
Dermal fillers are a popular addition to the old money aesthetic. Special type of lighting in photography used in the 60's seen especially in female portraits emphasised the contouring and edge lines that differentiate facial features of the subject. Cheeks, lips, jawline. Augmentation of certain areas using hyaluronic acid can give you that classic old money look that you are after. Profhilo is also used to plump and firm up areas of the face, such as cheeks and chin. Fine contouring and edging of facial features can be part of the minimalism trend which some patients follow – opting for simpler, less-is-more looks, de-cluttering makeup bags.
Medical aesthetics regardless of fashion or lifestyle aesthetic when performed by an experienced doctor, can be both safe and effective. With the right combination of treatments, you can achieve the look you've always wanted and feel confident in your own skin.
To submit your Google Review, simply click here https://g.page/eskulapclinic/review?rc
Homepage:
Media:
Treatments:
Treatments for face:
Treatments for body:
Cost of treatments:
Call our Clinic to book you assessment today 07747474755
Social media
Instargram:
https://www.instagram.com/eskulap.clinic/
Facebook:
https://www.facebook.com/polskaklinika
Twitter:
https://twitter.com/polskaklinika/
LinkedIn:
https://uk.linkedin.com/company/eskulap-clinic-london
YouTube:
https://www.youtube.com/channel/UCnjXp2zHp55B-gbIxAqXkpQ