We cordially welcome you, together with my colleague Adrian we will conduct a meeting today about the Medilage brand. We will talk about the products and tell you how they can complement the aesthetic medicine treatments in your practice. My name is Sebastian and I will be hosting today's meeting.
76% of Poles today declare that they regularly use supplements. A large part does not consult a specialist at all.
29.8 billion, these are the data for luxury goods in 2021. This luxury goods market will have a value of over PLN 38 billion in the next 4 years.
3 years ago, we did a study asking patients what they needed between treatments. Supplements have turned out to be effective, but it is important that they are tested, of plant origin. The ingredients were selected only after the patient's needs were known. Then there was wearing a premium robe as evidenced by this movie. This video shows your patients.
In this film, we made sure to show what we want to emphasize. I would like to point out that Medilage products are available only in aesthetic medicine offices and clinics, we are not available in drugstores or pharmacies. If someone reads in the next issue of Vogue that Medilage is only available from doctors, they will be looking for these products from you.
Medilage Supplements
3 product categories. Antiage, Anti Cellulite and Metabolisme, Cheveux Femme and Homme. These are the 3 categories of problems that patients come with. That's why these products don't come in one capsule for everything. Therefore, it is not just an anti-aging product. Patients come not only to look good, but also to lose weight, shape their figure or get rid of hair problems.
The substances are selected from all over the world. From the Middle East from the Arava Desert. Anagain is an extract from pea shoots grown near Lake Constance. Phytopin Substance obtained from the trunk of a Landes pine tree. Interesting story with this forest because it burned to the ground and was regenerated. Hence, the plants and products of this forest are of high quality.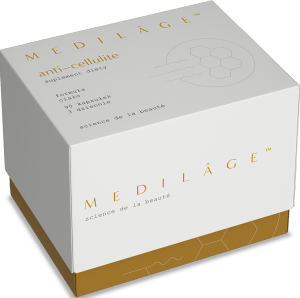 We refer to studies that show the effectiveness of these products. Safe for vegans, non-GMO. When it comes to supplements, anyone can report to the office that they will produce supplements. They are then at 23% VAT rate. Medilage has 8% VAT. We really had to convince the tax office to let us go from 23% to 8% VAT. We had to show that the quality of these products is at the high level of a medical device. This is proof that they actually work.
Astapure Arava has a 10mg astaxanthin content of very high quality and importantly of natural non-synthetic origin. This is our advantage. And enzymatic antioxidants. After the age of 25, we produce less of them, which affects oxidative stress. UV radiation is a factor that causes skin aging. Additionally, smoking, hormonal and genetic changes. This causes discoloration. Bad skin quality that is no longer well hydrated. Reduced amount of collagen and elastin. This affects the degradation of interstitial collagen. Why Medilage? Because the ingredients contained in min are found in our skin. Astaxanthin is found in the lipid membrane. Thanks to the action of substances of natural origin, we inhibit the formation of discoloration. We bring homeostasis. Better hydration, reduction of UV rays absorption, reduction of MMP1 expression. Too much tyrosinase activity is minimized by astaxanthin, which absorbs excess UV rays, which reduces discoloration.
Aesthetic medicine treatments have just such a task. Medilage is the complement that will support the treatments from the inside. One capsule and it really makes a huge difference. And that's what patients appreciate.
To submit your Google Review, simply click here https://g.page/eskulapclinic/review?rc
Homepage:
Media:
Treatments:
Treatments for face:
Treatments for body:
Cost of treatments:
Call our Clinic to book you assessment today 07747474755
Social media
Instargram:
https://www.instagram.com/eskulap.clinic/
Facebook:
https://www.facebook.com/polskaklinika
Twitter:
https://twitter.com/polskaklinika/
LinkedIn:
https://uk.linkedin.com/company/eskulap-clinic-london
YouTube:
https://www.youtube.com/channel/UCnjXp2zHp55B-gbIxAqXkpQ